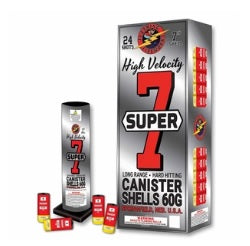 Artillery Shells - Super 7
Description
Beautiful, hard-hitting array of 24 7" canister shells that look like shotgun shells! Tube included.
1. Blue and pink peony
2. Purple and green peony
3. Red palm with gold glitter
4. Silver brocade with red star
5. Orange with blue star
6. Lemon with red glitter
7. Red and green palm
8. Blue, red star and silver chrysanthemum
9. Silver brocade to red and green glitter
10. Red, blue to silver brocade
11. Purple palm with green glitter
12. Red glitter willow with white strobe.