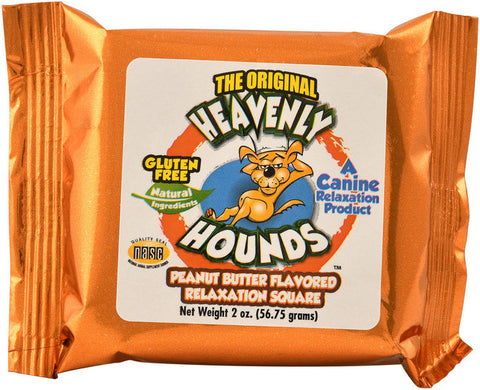 Heavenly Hound Anxiety Treat
ALL NATURAL AND SAFE: This is not your normal hemp for dogs. Heavenly Hounds uses only all natural ingredients that do not contain Hemp products to treat dog anxiety so you are confident that there are no side effects nor risks of overdose.

TREATS DOG ANXIETY: These calming dog treats provide anxiety relief for dogs with Fear of Storms, Fireworks, Pet Owner Separation, Boarding, Grooming and Travel. It's also a great treat for carsick dogs.

GREAT TASTING: All Natural single serving dog calming treats with Peanut Butter Flavoring that Pets LOVE! Simply the best anxiety help for dogs.

MADE IN THE USA: Heavenly Hounds is made right here in the USA, is gluten free, supports naturally balanced behavior in your canine friend, and is the safest treatment for dogs with anxiety.

GREAT FOR FIREWORKS and other stressful events: Better than thunder shirts for dog calming. This stress chewer is among the best products for dogs with anxiety.